JPRA
---
Greetings from the President of the Japanese Palaeolithic Research Association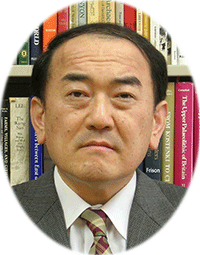 Prof. Dr. Kaoru Akoshima
August 16, 2018
I was elected as the President of the Japanese Palaeolithic Research Association (JPRA) succeeding to Prof. Hiroyuki Sato, the former President, at the general meeting held on June 23, 2018. The committee members election of this spring also supported to my candidacy and I am much honored to assume the important role to lead our association for the term of 2 years. I am a professor, working at the Department of Archaeology, the Faculty/ Graduate School of Arts and Letters, Tohoku University. My teaching at Tohoku includes archaeology in general, Japanese archaeology, and archaeological practice. It emphasizes the theories of the Processual Archaeology School in America. The JPRA was established in 2003, after the gJapanese palaeolithic forgery scandalh which had been revealed in 2000, for the purpose of renovating the Palaeolithic researches to assume the social responsibilities invoked by the scandal issue. I am from the Miyagi Prefecture which was the critical area then, and so I feel responsible for the cause of the JPRA thereof.
I, as president of JPRA, shall commit the following issues during my term of appointment. I would appreciate cooperation with the Vice President Dr. Jun Suwama and twenty plus committee members for this endeavor. Close associations with regional Palaeolithic societies from Hokkaido to Okinawa remain essential for the objectives of JPRA. It has ever been so since the foundation of our association, and one of critical problem is the education and fostering the next generations. We would review some financial issues, our award system, research group recommendations and so on for this.
Maintaining the already high standards of our professional journal, The Palaeolithic Research which counts volume 14 in spring 2018 would continue to be our priority among various activities of JPRA. Contemporary Palaeolithic studies have become increasingly global and interdisciplinary. Especially for our association, Asian Palaeolithic Association (APA) is fundamentally important for our international cooperation. APA is composed of four countries, that is, Japan, Korea, China, and Russia. The next APA meeting will be in China in 2020 after the meeting in Russia, August 2018. I was the Secretary General of APA and I would like to strengthen our ties with three countries based on my experiences.
Another important mission for JPRA has been the compilation of the database of all recognized Palaeolithic sites of more than 16,000 localities in the Japanese Archipelago. It was published in 2010 and already highly evaluated. Enhancement of the database and universal availability through the WEB online version is our next agenda.
---
HOME